CK Power continues building its portfolio of companies under 3rd-generation leadership.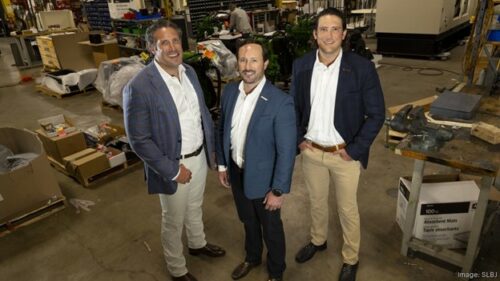 Brothers JJ, Clayton and Clark Costello have been involved with the family business since birth — so much so that when people ask 34-year-old Clayton how long he's been working at CK Power, he tells them 34 years.
The brothers, who took over the company's operations in 2018, are the third generation of the Costello family to work at CK, a St. Louis-based manufacturer and distributor of power units and power generator solutions. The company was created in 1976 as a segment of Costello Kunze (CK) Ford under the direction of their grandfather, Tom Costello.
But the company has older ties to St. Louis, as Western Diesel Services Inc., which was founded in the city in 1929, acquired CK Power in 1985 in an all-stock deal.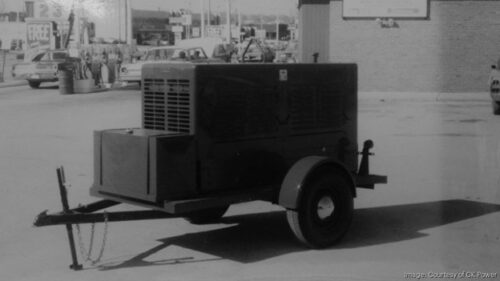 While operating as a wholly-owned subsidiary of Western Diesel, John Costello — Tom Costello's son and JJ's, Clayton's and Clark's father — in 1991 assumed the role of president and chief operating officer of CK Power.
In 2000, John acquired Western Diesel, becoming CK Power's owner and CEO.
"He's earned the right to take some time off," Clark said about his father, who remains the company's chairman and CEO but passed the company's operations off to his sons in 2018.
JJ, Clayton and Clark now collectively helm the company, overseeing areas of business development, corporate strategy and operations, and standby and prime power systems, respectively.
Continuing growth
The brothers said their goal is to continue growing the company, just as their grandfather and father did before them.
The company, which started with one facility and three employees, now has 11 locations, five assembly and manufacturing facilities and more than 500 employees, they said.
expand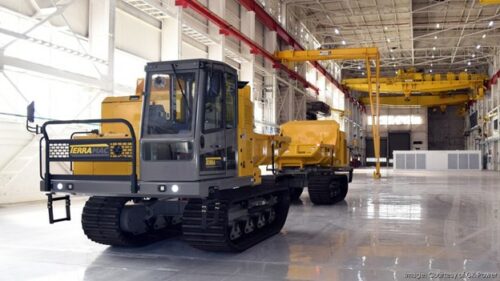 CK Power's newest manufacturing facility opened last year at 4350 Semple Ave.
The brothers declined to share the company's revenue figures. Clayton said that CK Power has grown its revenue between 15% and 20% year over year for the past eight to 10 years, and he added that the company reinvests "a significant amount" of its profits back into the company each year.
Under this strategy, CK Power acquired Consolidated Machine & Welding, a Hannibal, Missouri-based metal fabrication solutions company, in 2017; and Hayes Manufacturing Inc., a Fife Lake, Michigan-based industrial machinery manufacturer, in 2019. In 2021, the company acquired Rocky Mountain Powertrain, a Commerce City, Colorado-based heavy equipment repair shop, and Terramac, a Sugar Grove, Illinois-based manufacturer of crawler carriers.
"We're always open to acquisitions and making sure we can continue to expand our footprint," JJ said.
Workforce concerns
But there are ongoing headwinds that the company must contend with as it looks to continue expanding: There is a small population of skilled workers and supply chain snarls continue to negatively affect manufacturing.
In attempting to attract more workers, Clark helps oversee the company's workforce development efforts, which include partnerships with local high schools and trade schools and internship programs.
"We're in an industry that — for lack of a better term — isn't the sexiest, and we understand that," JJ said, adding that he believes that trade jobs are generally under-valued and under-marketed.
"We want to show people that you can make a great living here, being a welder, or servicing equipment, or assembling generator sets and construction equipment," Clayton said.
It's harder to address supply chain snarls because vendors' supply constraints are largely out of their control, he said.
The brothers attribute the success of the company to CK Power employees, saying that just as there are generations of Costello's in the company, there are generations of other families, too.
And they hope that future generations will benefit from the company's current success and continue to build on it, as JJ has three daughters and Clayton has one.
"In our family, we take pride in bringing them to the office, just like our father did with us," JJ said.
Important dates in CK Power history:
1929: Hugh Scott Sr. and G.A. Weidlich founded Western Machinery Co. in St. Louis.
1976: CK Power was created as a segment of Costello Kunze (CK) Ford in Florissant. Under the direction of Tom Costello, CK Power was the exclusive engine distributor for Ford, John Deere, Kubota and Kohler Generators.
1985: Western Diesel Services acquired all stock in CK Power.
1991: John Costello became president and chief operating officer of CK Power.
2000: John Costello acquired Western Diesel Services, doing business as CK Power, from partner Hugh Scott Jr. John became owner and CEO of CK Power.
2017: CK Power acquired Consolidated Machine & Welding.
2018: Brothers JJ, Clayton and Clark Costello take over CK Power's operations. Their father, John, continues to serve as chairman and CEO.
2019: CK Power acquired Hayes Manufacturing Inc.
2021: CK Power acquired Rocky Mountain Powertrain and Terramac.
2022: CK Power opens its newest facility in North St. Louis.
By Connor Hart – Reporter, St. Louis Business Journal
Aug 18, 2023