Change helps ignite manufacturing industry
GTAMC hosts fourth annual summit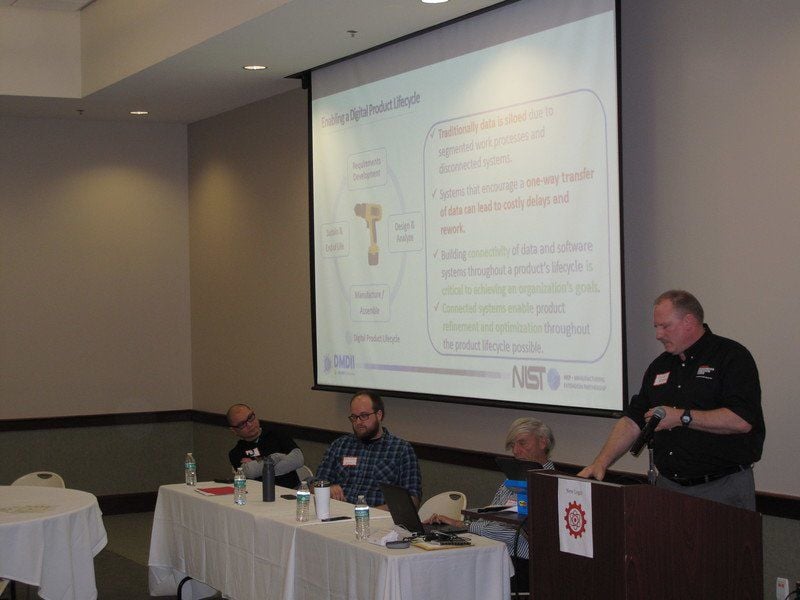 TRAVERSE CITY — Change is inevitable in the business world. Continuing to adapt is vital.
That message was delivered several times — from the keynote address through the breakout sessions — during the fourth annual Northern Michigan Manufacturing Summit at the Hagerty Center on Northwestern Michigan College's Great Lakes Campus. The event is hosted by the Grand Traverse Area Manufacturing Council.
Matt Bulloch, chief executive officer and president at TentCraft, said not every employee will be on board with the changing procedures in business.
"If you don't like change, you'll like irrelevant even less," said Bulloch, recalling a line he heard.
Bulloch was one of three panelists at a breakout session on continuous improvement following the keynote address at Tuesday morning's manufacturing summit.
"We're not going backwards," added Penny Challender, chief financial officer and part-owner of Hayes Manufacturing in Fife Lake.
Bulloch and Challender were joined at the Continuous Improvement breakout session by Roni Hazelton, the vice president of fulfillment at Cherry Republic.
All three talked about applying lean manufacturing principles to minimize waste without a loss of production. There was also praise for NMC programs.
Challender said PADNOS mounted a camera to its recycling bin for steel and aluminum chips, which allowed their efficient removal — saving time and money.
Bulloch said TentCraft has even transferred value-stream mapping throughout the company to cut down on procedures. He also touted the book "2 Second Lean" by Paul A. Akers as a way to continually make small improvements and to "fix what bugs you."
"Make a two-second improvement every day," said Bulloch, who has employees submit short videos every quarter. "That's really resonated throughout our entire organization."
While manufacturing isn't the bulk of business at Cherry Republic, Hazelton said the company still finds lots of ways to reduce waste. She said leftover crust in the baking process gets turned into "little hand pies," while broken cookies are used in ice cream products.
"Cookies and ice cream just go together," she said to a room full of laughter.
Other breakout sessions focused on Digital Movement and Talent Development.
Chuck Werner, program manager with the Michigan Manufacturing Technology Center, said digitalization brings it all together in Industry 4.0, also called the Fourth Industrial Revolution.
Werner said the digital world is "an explosion of connected possibilities."
The keynote speech at the summit was delivered by Ferris Coffee and Nut Co. president and CEO John Vantongeren and his sons, Mark and David. Mark Vantongeren is involved in business development and David is the director of retail at the 94-year-old company based in Grand Rapids.
John Vantongeren, the fourth owner of the company, said the mission statement was totally transformed after David asked three questions about the business: Who are we? What do we do? Why does it matter?
"'Why' is the one question that plagued me for about five years," John Vantongeren said.
The president of Ferris Coffee and Nut said he's changed the entire business model so the customer isn't on the bottom of the period, getting directives from owner/management through the staff.
"It's an upside-down model by today's standards," he said.
The new mission statement at Ferris is "to build relationships that thrive through specialty coffee and nuts." The new triangle model has customers at the top.
"We've pretty much flipped everything on its head," Mark Vantongeren said.
Ferris Coffee and Nut is also changing where it operates. Currently in two buildings, one in Grand Rapids and another in Wyoming, the company soon will move into a single 165,000-square-foot facility in Grand Rapids.
That will bring all of its operations under one roof, increasing efficiency and reducing waste.
"It's important to step back and ask the questions, 'Who are we?' What do we do?' and 'Why does it matter?'" John Vantongeren said.