CK Power develops mobile charger to keep battery-powered buses on schedule
"A customer came to us, looking for a solution that could charge their battery-powered buses while they were in different locations during testing, or wherever there wasn't an infrastructure available," said Clayton R. Costello, vice president of Marketing and Corporate Strategy, CK Power, St. Louis, Mo.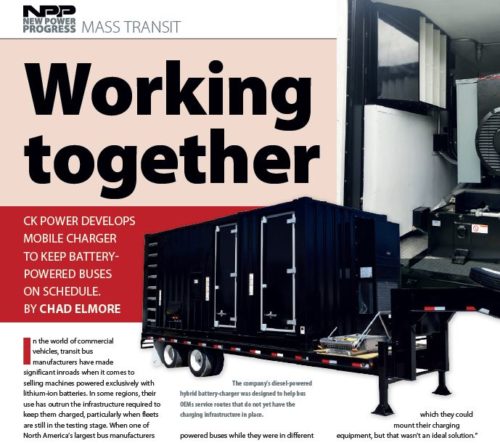 CK Power drew on its gen-set packaging experience as well as that of enclosure partner Girtz Industries to come up with a solution, a hybrid charging system for buses.  The custom-built solution is a self-contained unit that incorporates a U.S. Environmental Protection Agency (EPA) Tier 4 final diesel engine supplied by either Volvo Penta or John Deere Power Systems rated 60 to 200 kW. The engine is connected to a Marathon generator.
2020 is off to a great start! Check out CK Powers feature in Diesel Progress highlighting our Hybrid Battery Charging Technology.