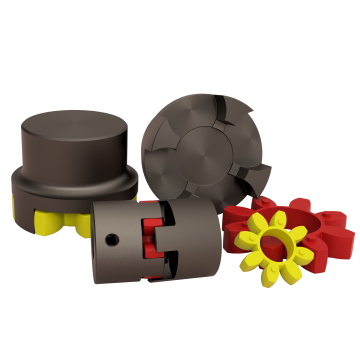 Curved Jaw Couplings (CJ Series)
PRODUCT DESCRIPTION
This three-piece curved jaw Coupling design was specifically designed to reduce the edge pressure of the driving lugs to the Coupling insert. These couplings are perfectly interchangeable with other German and Italian Coupling designs. Coupling Hubs are made from sintered steel. The Coupling elements, or Coupling spiders, are made from variable durometer urethane.
Greater compensation for axial, radial and angular shaft misalignments than standard straight jaw couplings.
Axial Plug In
Easy Assembly
Coupling Operating temperature Range (-40F to +212F), Max temperature of 248F
Dampens torsional vibrations
Multiple Coupling bore options (English, Metric, Splined, Tapered, etc…)
No Coupling Lubrication Required
No Metal to Metal Coupling Contact
Urethane spiders provide high abrasion resistance and elasticity.
Resistant to oil, dirt, sand, grease, moisture, many solvents.
Hydraulic Pumps
Centrifugal Pumps
Light Generators
Blowers
Fans
Conveyors
Wood Working Machines
Mills
Mixers
Presses
…and many more