Hayes Manufacturing success story
Feature company spotlight
Hayes Manufacturing, a third generation family-owned business located in Fife Lake knew they wanted to expand their power transmission products business internationally. However, after more than 60 years solely focused on domestic growth, they were unsure where to begin.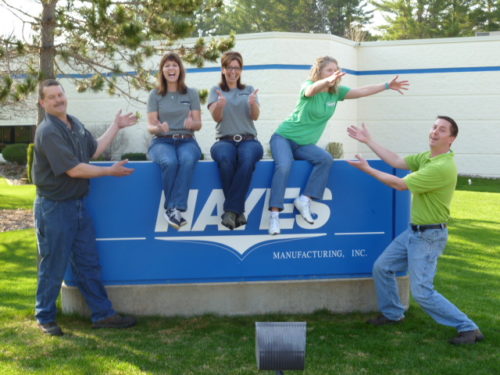 After learning about the Michigan Economic Development Corporation's International Trade Program, and specifically the State Trade Expansion Program (MI-STEP), Hayes Manufacturing quickly realized the immense amount of opportunities available for their products in overseas markets.
The primary objectives of the MI-STEP program is to increase the dollar value of Michigan exports, expand the number of Michigan companies that export, and introduce current exporters to new foreign markets and buyers. MEDC helps facilitate this by providing direct reimbursement in the form of a MI-STEP grant to eligible Michigan small businesses who engage in export-related activities to expand their international trade. "We did not know how to find the demand or the markets for our products overseas and we had no idea how to get started in the process," Penny Challender, Owner/CFO of Hayes Manufacturing said. "Now that we are well into it, we see that building our business internationally is no different than it is in the U.S. It's about making personal connections and follow-through."
Chris Bosio, an MEDC International Trade Manager, worked to help prioritize the markets Hayes Manufacturing needed to concentrate on based on research conducted. He also assisted the company with international introductions, trip planning and meeting scheduling.
Using the grant received from MI-STEP, Hayes Manufacturing was able to travel to Australia to meet with the 15 well-vetted prospects who were already interested in their products. This resulted in Hayes securing B2B connections in the country and, in just over a year and a half, an increase of 383% in their sales to the country. Today, Hayes continues to receive weekly requests from stocking distributors in Australia who are looking for more information about the company and their products.

"We are so appreciative for the assistance we have received from the MEDC. We would have no way of finding or funding the level of detail and expertise that they continue to provide for our company. Our goal is to grow Hayes Manufacturing to provide jobs for our community and we feel like MEDC is our partner in achieving that goal," Penny said.
In addition to Australia, MEDC has also introduced Hayes Manufacturing into the U.K. market, where based on initial investigation, there appears to be more export opportunities available for their company. With a trip planned for 2018, Hayes is preparing to be competitive in this market as well.  For more information on the MEDC International Trade Program including MI-STEP, please visit www.michiganbusiness.org/grow/international-trade-sservices/