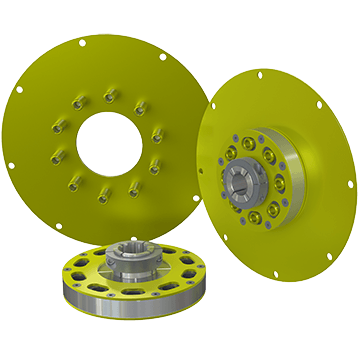 Flywheel Coupling Product Description
The Hayes "Armadillo" Flywheel Coupling absorbs vibration and shock to provide a steady dampening effect. The two-piece design gives you the ability to clamp onto both splined and keyed shafts, greatly reducing spline or shaft fretting corrosion.
We do not currently have a selection tool for this product line, so please give us a call with your application questions.
Absorbs vibrations and shock loads, lengthening the life of your pump components
Provides a steady dampening effect under load
Designed for maximum life when operated at normal engine speeds, torque and alignment
Rugged steel construction
Also offered with a Stiffer Delrin drive inserts for tough alternator or generator applications
-40° to +220°F operating temperatures
Various series for standard SAE flywheels and Non-standard flywheels including engine housings
This one-piece flywheel coupling is used on Off-highway construction equipment such as;
Compressors
Alternators
Generators
Custom Bearing Supports
Hybrid Vehicles
and much more